Learn About Our Frugl App Features
Barcode scanning is one of the ways Frugl allows users to search for and compare products and pricing. This feature however can also be used by users to add items to their grocery lists.
To use this feature as a comparative tool, use the single item scan option. This allows you to scan an item and then view the item's product details, including prices across both Coles and Woolworths supermarkets where available. 
To use this feature as a way to add item/s to your shopping list, simply use the multi scan option. This allows you to select the shopping list that you want these items added to and then scan them into that list.
This feature is available to both Frugl Guest and Registered users.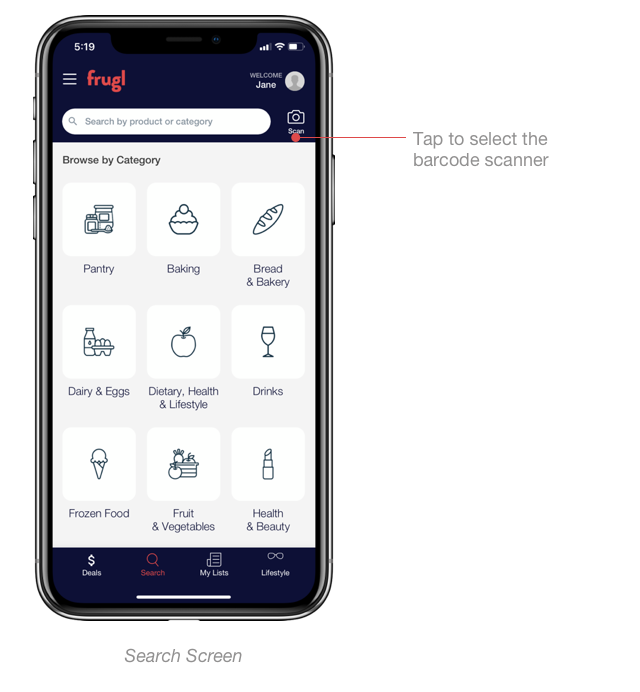 Know what item you're looking for? With the text search function you can type in the name of the item you want to look at/add to your shopping list. This function works best the more specific you are with your text search.
For instance, searching Biozet Attack Front & Top Loader Laundry Powder 2Kg will bring that product closer to the top of your search results. However if you were to simply search for Biozet Laundry Powder you'll get results for all the different types available.
This feature is available to both Frugl Guest and Registered users.
Don't know what product you're specifically looking for but have a vague idea of the category that product might reside in? You might find the category search helpful. Our category search works on broad searches of a whole category such as Dairy and Eggs or Fruits and Vegetables, just to name a few.
Once you've done a category search and the results have loaded you do have the ability to then filter your results; you can do this with either the Search Filter function, or the Search Bullseye function.
This feature is available to both Frugl Guest and Registered users.
The Search filter function is a handy way to narrow your search for products based on the filters of store, dietary, origin, allergens or additives.
For instance, have you done a broad category search but even though it's in Dairy and Eggs you want to actually avoid animal products?
There's a vegan filter that you can use to bring forward only vegan options. There's even now the option to filter by origin, meaning you can find Australian made products just like that.
This feature is available to both Frugl Guest and Registered users.
Similar to the Search filter function, the Search bullseye helps to narrow your search, however it does this based on the principle of 'show me more items like this'. 
This means that if you've found a product you like, for instance Nutty Bruce's Almond Milk but you'd like to compare it to other almond milk products, then you simply need to tap the the bullseye icon on the the Nutty Bruce Almond Milk product card (the bullseye will change from grey to red when activated). From here you'll see more items like the one you've applied the bullseye filter to appear in your search results. 
To deactivate the bullseye filter simply re-tap the bullseye icon or simply start a new search.
This feature is available to both Frugl Guest and Registered users.
Sometimes there are specific items in your grocery list that you stick to whether out of brand loyalty or because that product works best for you; yet it is also a product that doesn't need to be bought every week, or only when it is on sale. 
For these types of products we introduced the 'My Favourites' shopping list. It's a list that you can add those products to (so you don't have to go searching for them every time) and therefore keep an eye on for any price drops in price. 
To quickly add an item to your 'My Favourites' list simply tap the heart shaped icon on the product card of your desired product. If the heart is red, it means the item is in your list. To remove the item from the list, simply un-tap the heart so it is no-longer red in colour. You can also remove an item from you favourites list by swiping from the right to left of a product card within your 'My Favourites' list. 
The 'My Favourites' list and save to favourites feature is only available to users with a registered Frugl account.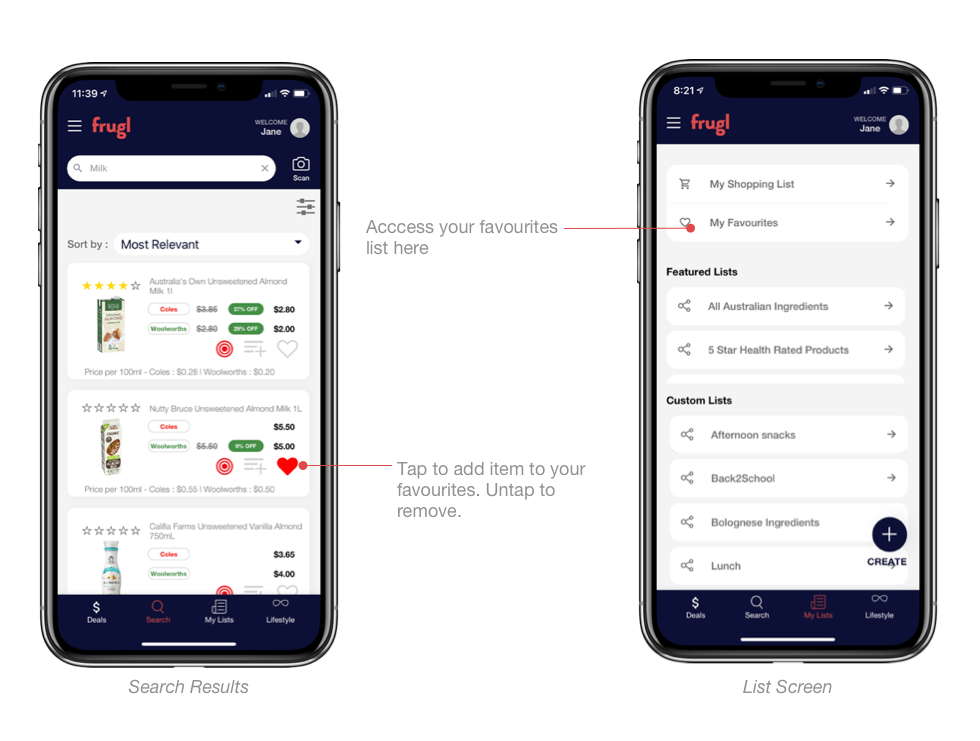 Take the guessing game out of buying products you've never tried before with the Frugl app feature: customer product reviews. 
Users of the Frugl app can leave ratings and reviews of their favourite or least favourite products to help other users decide if they'd like that product too. 
Product ratings and reviews can be found within Product Details. Tap 'View all/Add' to view unique reviews or to add your own opinion on the quality of that specific product.
This feature is available to both Frugl Guest and Registered users.
Account settings is an area of the Frugl app where registered app users (those who login to the app using an email and password) can go to update their personal information, change password, change notification settings and even access their dietary profile (more on the Frugl dietary profile can be found here). 
Guest users do not have access to account settings as a guest user has limited functionality due to having no login information to secure the input of such personal information. 
For users wanting to have access to account settings and other registered user only features  we recommend using a registered user account – there is no added cost associated with a registered account.
Grocery Price by User Postcode
Grocery prices differ across Australia based on location. This is why we thought it was important to incorporate a function that allowed us to supply as accurate pricing information to users as possible. For users with a registered Frugl account (one where they login using their email and password) they can add a postcode which then their pricing in the app is based on.
It is important to note however that this postcode supplied is not the postcode of the user's residential address but rather the postcode of the supermarket the user intends to shop at. This means that if a user travels outside their original nominated postcode area, then they need to update their postcode accordingly. 
The ability to update or even supply a postcode is only available as a Registered user. Guest user's have limited functionality and therefore have pricing in the app based on a generic postcode and may differ to their store price from time to time.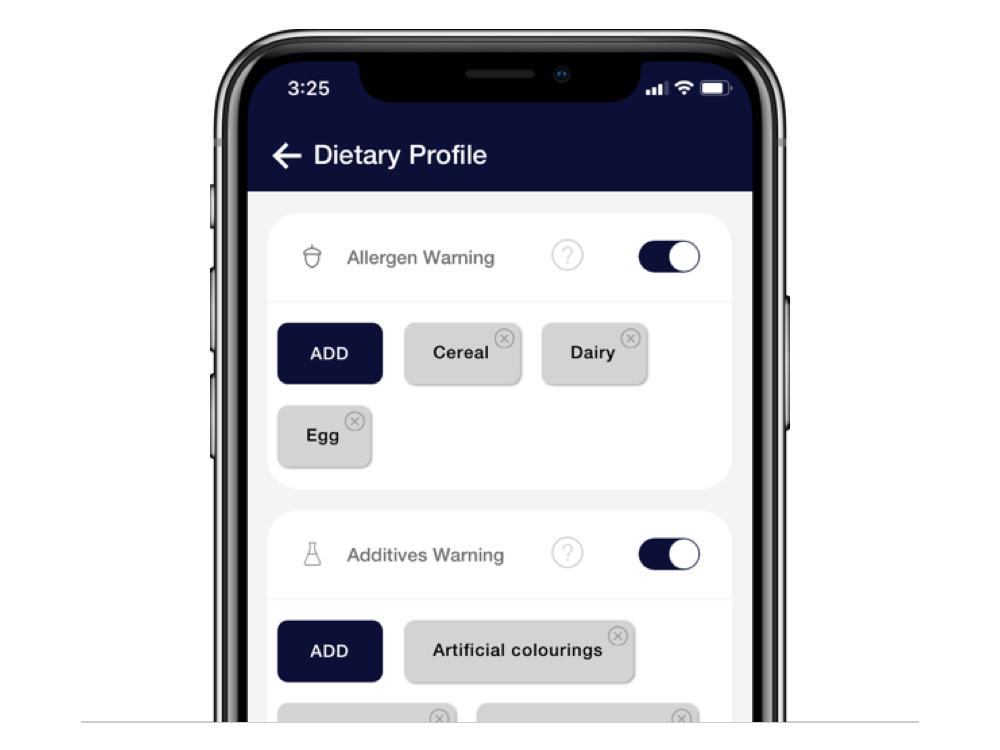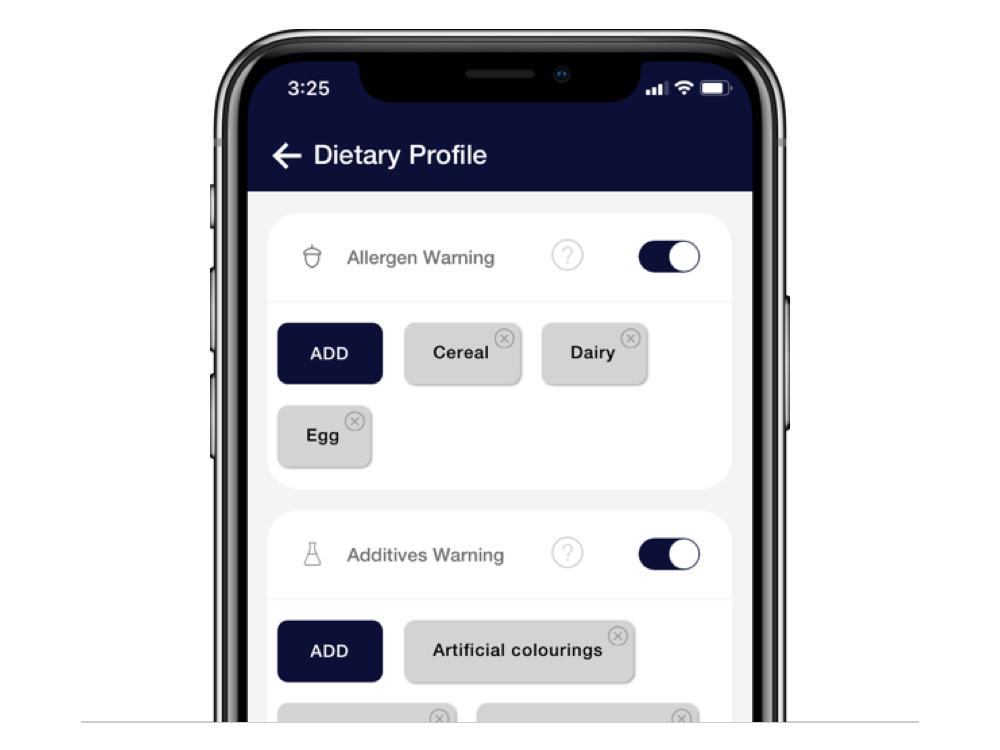 As a registered Frugl app user you have access to your very own customisable Dietary Profile. This profile is where you can set allergen and additive warnings as well as nutrient warnings. This feature is great for those who need to avoid certain ingredients in their diet. 
Once using the dietary profile to flag those ingredients you need to avoid, you'll notice that on the product card of products containing those ingredients that there will be a warning.
This feature is available to Registered Frugl app users only.
As a registered user you have the ability to create and use custom shopping lists. This means you can have lists for any occasion; whereas guest users only have access to 'My Shopping List' and the ability to view and Frugl curated featured lists. 
The benefit of custom lists is that you can store ingredients for recipes in separate lists, or even break your lists up into different events such as 'Back to school', 'Dinner this week', or any other personal list that suits your needs!
This feature is available Registered Frugl app users only.
The Share List feature does just that; it allows users to share their Frugl grocery list with family, friends and more! Sharing lists can be done via text message, social media or email. 
This feature makes it a great way to get the whole family involved in the weekly food shop, or even a great way to help a loved one who due to COVID-19 needs a little hand getting their groceries.
Only people with the Frugl app however can open that shared list.
This feature is available to both Frugl Guest and Registered users. However, the function is limited for Guest users.
Featured lists are Frugl Staff curated lists. They're a great way to get your lists going as well as find inspiration and new products.
For Frugl registered users these featured lists can even be saved as custom lists.